It's not just production practices that matter – a commitment to responsible development is important too. Another important factor is the product range a company chooses to manufacture – as some print formats are much harder to produce sustainably than others.
Canvas prints, for example, are now one of the most sustainable print formats on the market. So, what sets canvas prints apart – and how are they helping printing companies respond to ever more insistent environmental demands?
Picanova Group, one of the global leaders in canvas printing, told Printweek how canvas has become a standard-bearer of sustainable printing. As one of the global leaders in canvas printing, Picanova Group believes canvas has become a standard-bearer of sustainable printing.
Sustainable printing goes global
The advent of globalisation has brought with it a new wave of sustainability concerns, so it's right that firms with a global presence receive the greatest environmental scrutiny. After all, a change made at a global level will have an immediate impact on the wider industry's footprint.
To give an example, at Picanova Group we operate shops in several countries, and a sustainability policy introduced in one territory will generally be rolled out to the others too. Picanova's Australian-based outlet MyPicture.com.au, for example, uses the same production practices as their UK, French and German shops.
Canvas prints use biodegradable materials
A canvas print is essentially a printed piece of canvas fabric wrapped on an inner stretcher frame. And the frames used in today's market are overwhelmingly made from wood such as pine or spruce. Provided that the timber is sourced from sustainable forests, this means that the bulk of the materials used in a canvas print are by their nature biodegradable.
The fabric itself, it must be said, does often include man-made materials: to make their canvas stronger, many printing brands combine natural fibres and synthetics such as polyester. But in fact, the use of synthetic fibres can have an environmental benefit in itself, as the more durable the canvas fabric is (the more resistant to moisture, heat, and wear and tear) the longer it lasts – and the less likely it is to require additional lamination.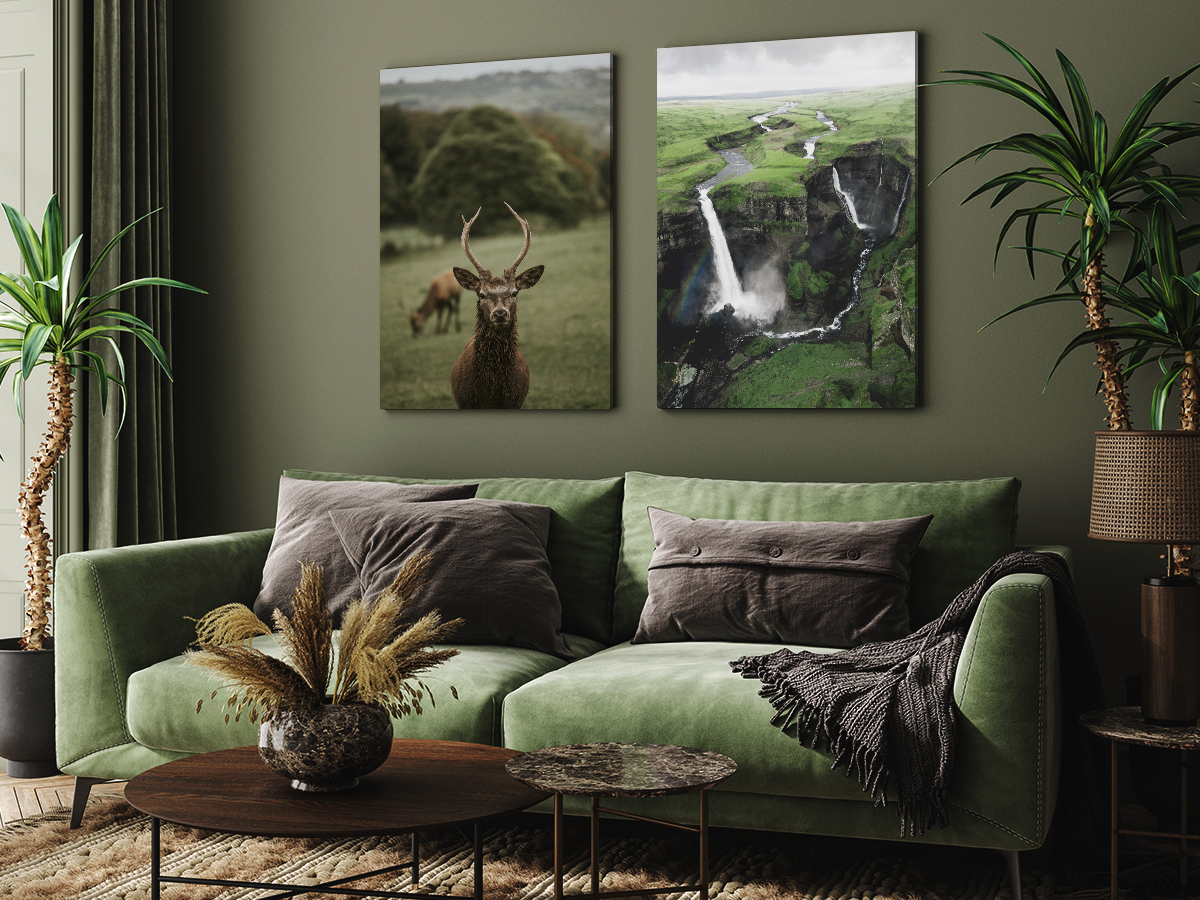 Canvas prints last for decades
All photo prints go through a fading process over time. So, unless buyers can find prints that slow this process down to a minimum, they face the prospect of ordering replacement prints several times over the course of their lives – thereby contributing to our unsustainable consumption habits. And canvas prints really set themselves apart here: customers who buy from a reputable provider can expect exceptional UV resistance, with prints that will last for at least 75 years if treated with a minimum of care. That's a lifetime of excellent performance.
Canvas prints are safe for the environment – and for people too
Environmental concerns have brought changes to the inks used in canvas printing too. These days solvent-based inks are scarcely used, and non-toxic solvent-free alternatives such as latex inks are now considered the gold standard for the industry. Latex inks deliver the same colour vibrancy and chemical stability as solvent-based inks, but are hypoallergenic and eco-friendly.
Custom canvas prints: a solution to overproduction
Overproduction entails an obvious impact on the environment. And while for some businesses it's a real challenge to reduce overproduction without running the risk of backlogs, the printing industry has a huge advantage here. Companies offering custom-made photo products, e.g., personalised canvas prints, can wait for a purchase to be made before starting production – thereby cutting out surplus stock and reducing waste.
What's next for canvas printing?
Environmental concerns are only going to grow more urgent – and firms in almost every industry will need to adapt. Printing companies that already produce the more sustainable print formats such as canvas are likely to adapt the eco-friendly production practices used there (e.g. producing more custom prints on demand rather than continuing mass production) to their other merchandise too.
And since demand for personalised print products is growing worldwide, those providers already investing in sustainable development are likely to see their market presence grow as they benefit from increased customer loyalty.