When it arrives in July, the new Heidelberg Speedmaster XL 106 perfector will boost the group's litho firepower by around 35% to 68,000sph.
"It's about boosting our capacity and getting the business in a better position to take on more work. Last year we grew 30% year-on-year and we don't see that slowing down," said Mark Young, head of Route 1 Print.
The additional highly spec'd eight-colour B1 LE (low energy) UV press with Cutstar will join a similarly configured XL 106, an SX 102, also an eight-colour, and a 10-colour XL 75.
Despite its litho firepower being all Heidelberg, Young said that the business did review the market: "But Heidelberg is tried and tested for us and we work well with them, the current press has been fantastic and works very well for us, so we're excited about more of the same."
The new press will largely produce the business's bread and butter work, including flyers and book work.
"[Although] the litho stream really does take a bit of everything and the more capacity we have the lower the quantities we can produce," added Young.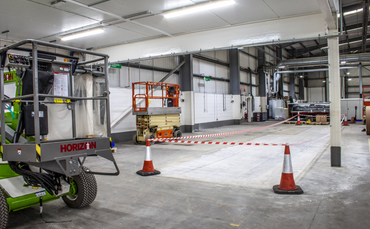 Base ready for the arrival of the Landa S10P
While the factory prep work for the new Speedmaster was completed, the group also made ready for the arrival of the UK's first Landa S10P Nanographic perfecting printing press, with a new base poured and workflow modifications in progress in anticipation of its arrival later in the summer.
The £6m summer spend will also include a number of undisclosed post-press machines to support the productivity boost offered by the new XL 106, as well infrastructure upgrades to services including power and air.
The Landa, which will join a digital battery made up of Fuji, HP, Screen and Xerox engines, is not part of the spend.
All of the new litho and post-press kit will be fully operational before the group's peak season kicks in.
"Around September/October is when we start to see things really take off, the idea is that everything will be all in, up and running and putting out work well before then," said Young.
To support the kit investment, the group is also undertaking a recruitment drive across a wide-range of roles.
According to Young, the fact that the firm has Living Wage accreditation has been a boon to its hiring activity.
"It's definitely helped, we've seen a massive increase in the number of applications we're getting – even for roles that are advertised at higher rates than the Living Wage."
When complete prior to peak season, the recruitment drive will increase the group's circa 360 headcount to just over 400.
Young added that the factory extension unveiled last year, is still on schedule to come on stream in early 2020.