The S10P perfecting press arrived in parts yesterday and today (13 August) and will be assembled over the next two months, including testing with Rotherham-based Route One's bespoke workflow.
The press will primarily serve Route One, but also run jobs across the wider Bluetree Group. It will be operated by factory staff who are to undergo a comprehensive training programme.
Mark Young, head of Route One, said: "The press will be serving the whole of Bluetree Group, but the first job off the press will be for a Route One client. We will be running a mix of products, as this press is capable of printing on a host of off-the-shelf substrates.
"We have been working closely with the team at Landa long before we made the investment to ensure that it will both work within our factory and meet the expectations of our clients. As we have built this relationship and seen the presses in both Israel and also the install in Schelling, Switzerland, we have every confidence this will continue to be a smooth build and the start of a fantastic relationship with an innovative company.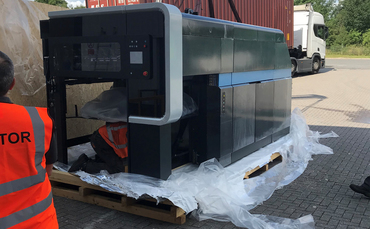 The press arrived in parts over two days
"We expect this press will further bridge the gap between digital and litho run lengths, meeting customer demand of high-quality, low-cost products with a fast turnaround time."
Using patented Nanographic pigment technology, Landa claims the S10P can produce up to 95% of Pantones when running process plus OBG. Taken in a CMYK configuration by Route One, it prints double-sided B1 sheets at 3,250sph, with a high-speed 6,500sph option set to be available in future.
Landa states that its CMYK inkset can match 84% of Pantone colours, 30% more than standard offset inks.
Route One and sister company Instantprint have benefited from a summer spending spree thanks to Bluetree Group, which has invested more than £6m on a new Heidelberg Speedmaster XL 106 perfector, as well as a number of supporting post-press machines.
The £41.5m-turnover group has also been running a recruitment drive that has now taken its headcount to more than 400 members of staff.
No external hires were made specifically due to the Landa's arrival as, according to Young, interest was high enough internally to fill the required roles with current team members.