At The Print Show 2022, Solopress was in attendance promoting Solopro, its exclusive service that provides dedicated account management, bespoke products and flexible pricing to top tier customers. However, the overwhelming feedback from visitors to the Solopress stand was, "why no API?".
According to Solopress managing director, Simon Cooper, "What we were repeatedly hearing from potentially high-value customers was that, unless their print partner was able to offer an API solution, the ordering process would be too demanding. So, we came away from The Print Show knowing exactly what we needed to do."
Now, less than a year later, Soloflo is available to customers. Fortunately, businesses wishing to adopt the new solution need not worry about compatibility. While some one-size-fits all APIs struggle to integrate with diverse systems, Solopress has taken a more flexible approach to suit everyone.
Rather than taking the form of a singular API, Soloflo is more like a set of solutions ready to be integrated into whatever app, website structure or e-commerce platform the customer is running. Solopress can offer Soloflo as an off-the-shelf plug-in, API key or custom-coded integration; whatever it takes to get connected.
Once on board, Solopress was keen for Soloflo to alleviate many of the frustrations that customers tend to experience with existing print APIs. As part of the research phase for the project, Solopress identified various pain points that could be avoided from the outset through the design of this brand-new solution.
When Solopress spoke with users of APIs already on the market, there were certain shortcomings that were mentioned again and again. One sticking point was the issue of SKU codes. Customers spoke of having to adopt supplier codes, or having those change for certain products as a result of updates. In response, Soloflo has been designed to work with the customer's own SKUs, and for those to remain consistent unless updated by the customer.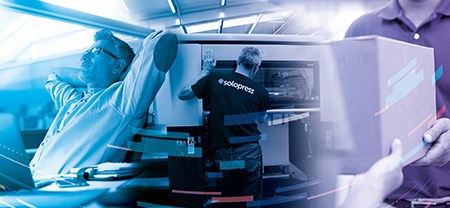 Other notable feedback concerned issues around system updates. Again, Solopress was able to design solutions into Soloflo at the outset by automating real-time updates with no need for monthly downloads or remapping products.
Customers also spoke of unannounced supplier price changes that would impact their margins until the necessary pricing adjustment could be made. Soloflo comes with a commitment to fixed-term pricing that avoids this issue and maintains a line of communication with customers.
Communication is another key area where Soloflo seeks to shine. In addition to dedicated account managers liaising with Soloflo users, the system itself will keep print recipients updated on order statuses and delivery dates. Unbranded communication will provide recipients with tracking details for their consignments, which are shipped in white label packaging.
Soloflo will also allow its customers an unprecedented degree of flexibility when it comes to bespoke product specifications and payment terms. Customers will be able to work with their personal account manager to create off-menu products that bring something new and unique to their offering. Requirements as minor as how the print is bundled can be of great importance to customers, and those requests will be accommodated as part of the service.
Regarding payment terms, customers that are onboarded through Soloflo will be exempt from initial credit checks. That means Soloflo customers can benefit from a payment-on-account plan from the very outset, letting them switch on the flow of orders through the API with immediate effect.
Drawing on market research, and with the full weight of Solopress' service, production and reputation behind it, Soloflo looks set to be a refreshing and effective new option for businesses that rely on supplying print products to their customers.
To access API documentation or to arrange a call to discuss a custom integration, please visit https://www.solopress.com/soloflo