Today, however, those critical communications flow across multiple channels. In recent years, Adare SEC has invested heavily in its digital offering, developing a reputation for excellence in digital communications management – particularly where this dovetails with print to provide clients' end-customers with communication choice and convenience.
Changing perceptions
Adare SEC's digital growth is changing the perception of the company in the eyes of clients and prospects. The business is recognised as a multi-channel communications service provider and a trusted digital expert, as reflected by the company's growth figures across its digital offering.
Dynamic digital growth
Adare SEC's Digital Services team oversees the suite of digital tools that the business offers. Put simply, these tools simplify the management of complex customer communications by empowering clients with real-time self-serve access to document and message templates. They also enable the high-volume, secure despatch of email and SMS, and they empower hybrid mail delivery via post, email or text.
The Digital Services team has seen:
• A revenue increase of 32% year on year.
• 14 new customers onboarded to its suite of digital solutions in the past 12 months.
• Clients increasing their email and SMS send volumes by 11%.
• Two new digital products launched, with the first client implementations completed with SmartAccess (inbound workflow tool) and SmartTicket (ticketing system).
In parallel to Digital Services, Adare SEC's Digital Experience team creates mobile and web applications for digitising two-way customer communications – providing a digital channel for clients' end-customers to respond to calls to action, to self-serve and to generally interact more efficiently and conveniently, driving a better customer experience.  
Newly formed in this financial year, this team has driven six-figure revenue across the first four months of operation.
Sector penetration and growth
Adare SEC utilises Quadient's industry leading platform to support clients' digital ambitions through guided digital transformation – a more focused process which can happen either in parallel or in advance of any business's broader transformation goals. Here, smaller, tactical transformation delivers quick wins that solve immediate, everyday challenges.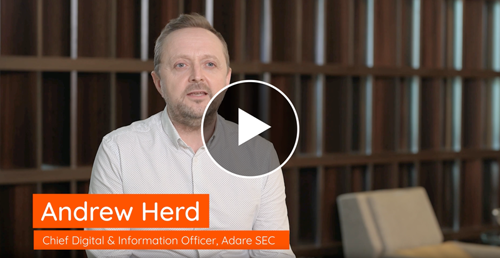 Adare SEC utilises Quadient's industry leading platform
Tony Strong, CEO, Adare SEC, sees digital growth happening across a number of verticals. He states: "Financial services and insurance are key markets, and we are seeing particular interest in digital solutions from the pension provision sector. But we are also opening up new opportunities. The healthcare industry is one example, with the business successfully introducing its high-volume email and SMS despatch service into this sector.
"We are also seeing a lot of success helping local authorities meet their digital transformation goals. Here, Adare SEC is helping councils to convert hard-copy communication packs to digital.
"Additionally, the transport sector has adopted our hybrid mail offering which enables clients to create communications as normal on PCs or laptops, and to then direct those communications to Adare SEC for efficient and secure processing and despatch."
Increased penetration within client accounts is also boosting growth figures. One client in financial services has recently invested in Adare SEC's hybrid mail offering, using the service for an additional workstream which has been identified some two years after the initial go-live with the client. This hybrid mail workstream now despatches over one million communication packs per year.
Strong concludes: "Adare SEC's USP within the sector is our ability to deliver transformational change in business process. We want to continue to be the name businesses trust for innovative, secure and flexible customer communications. One thing that really came out of our research report is the need for operational flexibility. Consumer demands change rapidly, communication channels move in and out of favour. Through our expertise and experience we are helping businesses across heavily regulated sectors to stay a step ahead, freeing them from the anchor of legacy processes and empowering an agile and efficient communications future.
Adare SEC's consumer research report 'Communication Cut-through'
"Our vision is bold – we are helping clients to reimagine customer communications using our expertise across print and digital. It's a vision that really resonates amongst our client and prospect base and we are leading the charge to improve communication efficiency, channel choice, and the end-customer experience."https://9232031.fs1.hubspotusercontent-na1.net/hubfs/9232031/Andrew%20Herd.mp4