Dundee-based TradePrint secured the evening's top award by being crowned PrintWeek's Company of the Year at the first time of asking.
"It's great to be recognised for what we do, but I think our model is fairly unique in the UK and sometimes misunderstood. Some people think we sell at unsustainable prices for example, but it's the complete opposite and winning this award proves it," said Tradeprint managing director Rod Scrimgeour.
"Everyone at the factory is really pleased; we're certainly expecting a warm welcome when we get back to Scotland. It was such a surprise to win and a great feeling – especially the kilted stage invasion."
Scrimgeour's sentiments were echoed by Julian Hocking, managing director of SME of the Year Nationwide Print: "The team are thrilled, it was a magnificently brilliant surprise and we're still buzzing. It was a terrific evening."
"We're only a small team and it's a total vindication of the years of hard work from the team and proves that it really pays off. It's for all of us and we're all going to go out and celebrate – even the grumpy ones."

PrintWeek Awards 2014 photo gallery (please note gallery may take a few seconds to buffer)
The Awards, hosted by Jimmy Carr, also raised £5,400 for The Printing Charity with Premier Paper's group marketing director David Jones winning the trip to New York, courtesy of Virgin Atlantic, in the prize draw.
Park Communications was the night's biggest winner, claiming three trophy's, closely followed 1st Byte, Pureprint Group and Eclipse Colour, via Eclipse 4DM and Eclipse Red, who all left the Grosvenor House, Park Lane with a brace of coveted PrintWeek Prisms each.
Our full run-down of the 24 Category winners and all the high commendations will be published in next week's issue of PrintWeek, but to access an advance copy of the 'Book of the Night' with all the details, click here.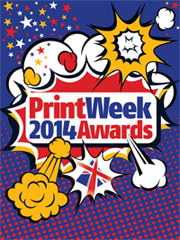 Click here to access the PrintWeek Awards 2014 'Book of the Night'