More than 600 guests attended the Awards dinner, which was hosted by award-winning comedian Russell Kane.
While a host of companies including Impress, Kingsbury Press, Precision Card Services, and Showcase Creative, scored-double wins, the night arguably belonged to Belfast-based Northside Graphics, which bested its 2017 SME of the Year win to be crowned the 2023 Company of the Year.
"It's unbelievable, I genuinely can't believe it," said Northside managing director Gary White shortly after picking up his award.
"Our team is incredible, obviously I push very hard, but without them we could never have achieved this. Everything they do is about putting the customer first and I'm so proud."
White immediately reported the win back to the team in Northern Ireland and said they were all elated.
"I just wish we could have bought more of them here to witness it," he added.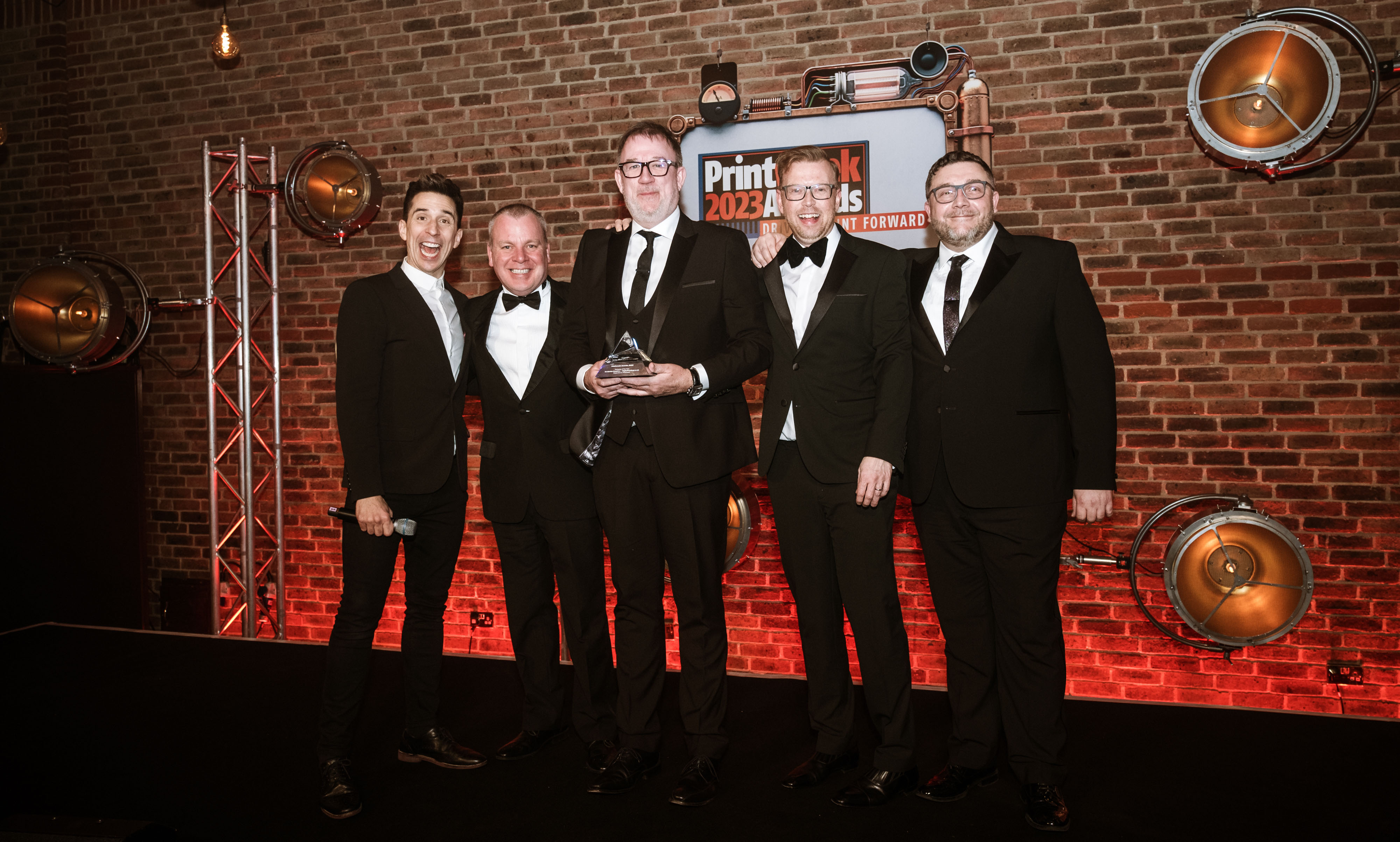 White, centre: I genuinely can't believe it
As well as securing an Innovation award, Precision Card Services triumphed in the SME of the Year category, after previously being the most consistently commended company for this Award.
"We are so proud, and so pleased – God loves a trier!" quipped managing director Adam Unsworth, who did a mini-moonwalk with the trophy after returning to the firm's table.
"It'll be really nice going back to the office with the trophy – it wasn't just a night out!" said Louise Ray, director of marketing and communications.
"We are genuinely happy. Louise deserves all the plaudits for the entry, and the team deserve all the plaudits for all their hard work," Unsworth added.
"We've come out of the pandemic much stronger, and we've got a very tight-knit team. It's a slightly smaller team, but a much more efficient team, and it shows. We're all pulling in the same direction. This is the icing on the cake."
Paul Hewitt, owner of Environmental Company of the Year – SME, Generation Press was equally effusive of his team.
"This was all about the team, it's about everyone in the business contributing to change and being rewarded," he said.
"It feels amazing, genuinely amazing. And I feel like we've completed a circle, we won a quality award last year and a business award this.
"So, I'm fulfilled, I'm retiring. I'm happy!" he joked.
Camberley-based Showcase Creative was a first-time winner, and carried off two awards: Bespoke Digital Printer of the Year, and Packaging Printer of the Year.
Director Jack Batey said he was delighted: "I wasn't expecting to win even one award really!"
"We had an absolute blast. The whole evening was great fun and the entertainment was on point. We are over the moon with winning two awards and I am proud of the whole Showcase team. What an amazing night."
All three of the talented young individuals on the Trainee of the Year shortlist received perhaps the loudest cheers of the night, with Charlie Cox from Berkshire Labels ultimately walking away with the prize, with high commendations for Paul Bisland from Tradeprint and Jay Patel from Micropress.
Cox was delighted by his win, telling Printweek: "The other people shortlisted have got the passion like I have so I thought I had no chance, I came more for the experience."
He has been with the company for just over three years and works as a printer on HP Indigo kit.
"I came into print knowing absolutely nothing about it. I did computers at college and a little bit of graphics. My uncle actually works for Berkshire Labels and introduced me to the company.
"I didn't realise how much passion there was behind labels – you go round a shop, pick a bottle up and just chuck it in your bag, but then I realised how much work goes into that, and being part of that family for three years I wouldn't have it any other way. I love working with the people I work with – people know what they're talking about, there's help always there for you and now I'm helping people who have just started."
Cox said he aspires to become a team leader, with engineering skills, so that he can pass his skills on to future generations.
Scroll down to see the full rundown of the 2023 Printweek Awards winners.
---
2023 PRINTWEEK AWARD WINNERS
---
Book Printer of the Year

Sponsored by Ricoh
WINNER
Kingsbury Press - Bluetree Group
HIGHLY COMMENDED
Gomer Press
---
Bespoke Digital Printer of the Year

Sponsored by Fujifilm
WINNER
Showcase Creative
HIGHLY COMMENDED
Pureprint Group
---
High-volume Digital Printer of the Year

Sponsored by Bowe Systec
WINNER
Print4UK
---
Label Printer of the Year

PCL Labels by Avery
WINNER
Label Apeel
HIGHLY COMMENDED
The Label Makers
---
Packaging Printer of the Year

Sponsored by BPIF
WINNER
Showcase Creative
HIGHLY COMMENDED
Pureprint Group
---
Post-press Company of the Year

Sponsored by Intelligent Finishing Systems
WINNER
Kingsbury Press – Bluetree Group
HIGHLY COMMENDED
Empress Litho
---
Wide-format Printer of the Year

Sponsored by Premier
WINNER
KGK Genix
HIGHLY COMMENDED
Pureprint Imprint
---
Bespoke Publications Printer of the Year

Sponsored by Denmaur
WINNER
Pureprint Group
HIGHLY COMMENDED
Kingsbury Press – Bluetree Group
---
Marketing Campaign of the Year

Sponsored by Quadient – CXM
WINNER
Impress Print Services
HIGHLY COMMENDED
Printed.com
---
Innovations of the Year

Sponsored by HP
WINNERS
Innovation of the Year: Environmental
Precision Card Services
Innovation of the Year: Brochure
Propack
Innovation of the Year: Packaging
Royston Labels
Innovation of the Year: Added Value
Service Graphics
---
Customer Service Team of the Year – Large Enterprise

Sponsored by eProductivity Software
WINNER
SMP Group
HIGHLY COMMENDED
Solopress
---
Customer Service Team of the Year – SME

Sponsored by Close Brothers Asset Finance
WINNER
Impress Print Services
HIGHLY COMMENDED
Book Printing UK
---
Environmental Company of the Year – Large Enterprise

Sponsored by Premier
WINNER
Go Inspire Group
HIGHLY COMMENDED
Bluetree Group
---
Environmental Company of the Year – SME

Sponsored by Quadient – MRS
WINNER
Generation Press
HIGHLY COMMENDED
FaberExposize UK
KGK Genix
---
Trainee of the Year

Sponsored by Heidelberg
WINNER
Charlie Cox, Berkshire Labels
HIGHLY COMMENDED
Paul Bisland, Tradeprint
Jay Patel, Micropress
---
SME of the Year

Sponsored by Compass Business Finance
WINNER
Precision Card Services
HIGHLY COMMENDED
Print4UK
Sinatra Marketing Group
---
Company of the Year

Presented by Printweek
WINNER
Northside Graphics – DigitalPrinting.co.uk
HIGHLY COMMENDED
Micropress
Qualvis Print & Packaging