Labelexpo's European show normally comes around every two years but owing to the pandemic it's been four years since the last one. Despite this, there were few surprise announcements or product launches, with most vendors either showing machines that were introduced during the pandemic or having chosen to announce this year's models earlier in the year. However, the show did highlight a number of distinct themes that show the direction the labelling sector is moving in.
Thus there was a much greater emphasis on packaging than at previous Labelexpos. Markus Weiss, general manager for HP industrial printing EMEA, noted: "We see a huge interest of label customers asking about flexible packaging and some packaging customers asking about alternative markets like folding carton or flexible packaging." HP showed both of its latest models, the fifth-generation Indigo 200K and sixth generation V12, both of which are nearing the end of beta testing with HP already taking orders for them. The V12 is one of the fastest digital label presses around, capable of producing up to 120mpm. Weiss added: "The future is the V12 and 200K with their huge versatility because you can use it for flexible packaging and labels and we can print on different media and even paper."
Not to be outdone, Xeikon launched its third-generation Cheetah dry toner press in the shape of the LX3000 Lion. This is a five-colour press with a 322mm print width and 1,200dpi resolution, but with the speed increased from 30mpm to 42mpm. The new press features an automated calibration system that Xeikon calls Cruise Control, which uses a spectrophotometer and a camera system to monitor the density and registration. 
Xeikon has developed a new Eco toner to use with the Lion series machines that will be offered next year to the existing series 2 Cheetah presses. This neatly highlighted the growing importance of sustainable solutions in the labelling sector. Xeikon says that roughly 60% of the base particles are made with high-grade transparent recycled PET. As such it builds on Xeikon's previous generation of toners that are free from BPA, mineral oil, and photo initiators by also not using fluorine and being 100% vegan.
Xeikon has also developed another new toner, Titon, specifically for food packaging. The Titon toner contains UV-curable elements that should make the prints more durable. Frank Jacobs, Xeikon's global marketing communications manager, says: "We know that UV has a bad name in labelling with food. But the UV component we are using has very large molecules so the risk of migration is very low." He points out that inkjet requires smaller molecules to avoid blocking the nozzles but the larger molecules cure more fully. In order to run the Titon toner Xeikon has created a new press, the TX500, by adding LED lamps to cure these elements to the existing CX500 design. 
Staying with the packaging theme, Mtex NS showed off a prototype of a new device, the FP6, which is designed for paper-based flexible packaging such as pouches rather than rigid boxes. The printer uses thermal printheads with a water-based pigment ink. It can print to either vinyl substrates, which will need to be pretreated to accept the ink, or to a paper-based media, which might not need any form of pretreatment, depending on how well it absorbs the ink. Once printed the media is then immediately laminated to protect the image and create the finished material for the packaging. It will take media up to 800mm wide but with a print width of 640mm. Nuno Coelho, CTO for Mtex NS, says that the target markets are things like pet food. The company is still waiting for the ink certification but this machine should be available by the end of the year. 
There was also a noticeable trend towards more hybrid press lines. There were still plenty of standalone digital printers and some inkjet units retrofitted to flexo presses, but a lot of vendors showed hybrids with a digital printing unit supplemented by flexo modules for effects and finishing. 
This point was underscored by Bobst, which was one of the few vendors to announce a new inkjet press at the show, the Digital Expert 340, but chose to exhibit the existing Digital Master 340 hybrid instead. Matteo Cardinotti, who heads up Bobst's narrow- and mid-web business, explained: "I believe that the market is moving towards hybrid."
The Digital Expert 340 is a standalone digital press though customers can choose to add a flexo unit. It has a maximum running speed of 65mpm at 1,200dpi resolution. This can be upgraded to the same 100mpm, also at 1,200dpi, as the Digital Master through a licence to unlock the software. Cardinotti, added: "The entry-level speed is limited to lower the investment cost of the machine. The market is big worldwide so for some companies 65mpm will be enough to replace a technology that is slower."
Otherwise both presses use the same inkjet unit complete with Fujifilm Dimatix Samba printheads. They can be configured with up to six colours plus two white channels. Bobst also demonstrated a second inkjet module on the Digital Master hybrid press, located immediately in front of the standard inkjet unit. 
This contains additional printheads to add more white channels. Bobst says it can achieve 72% white opacity at 100mpm, rising to 80% opacity at 80mpm. Cardinotti added: "It's our aim to add additional enhancements to the double white print such as varnish."
Gallus showed off its Gallus One digital press, which uses the same inkjet print unit developed for the Labelfire and based on Fujifilm Dimatix Samba heads but updated to increase flow volume. 
The main difference is that the press is now based on the modular chassis of the Labelmaster, which gives customers more flexibility in how they configure the press with all the Labelmaster's flexo converting units available as options. For now it's a 340mm wide press but the Labelmaster is also available in 440 and 570mm widths with Gallus suggesting that it will also offer wider versions of the Gallus one.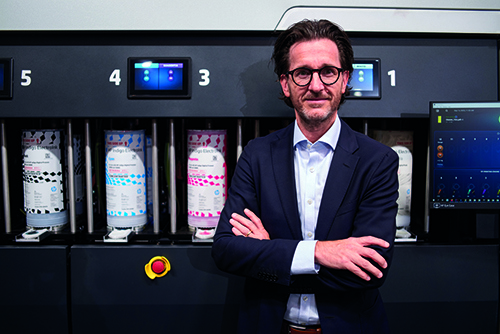 HP Markus Weiss, general manager for HP industrial printing EMEA with the new Indigo V12
Separately, Fujifilm also launched LuXtreme, a new low-energy LED UV curing system. It allows any traditional narrow-web flexo press to be converted to LED UV curing. 
Screen showed a hybrid line that combined a Nilpeter FA flexo line with its SAI inkjet label press. Screen has long had a hybrid option with Nilpeter but this has now evolved into a more integrated approach. Bui Burke, senior vice president of sales for Screen Europe, explained: "We gave the Nilpeter people all the data they need to join with our press so customers can choose whatever units they want." 
He said that even though the majority of inkjet presses are sold as standalone units for greater flexibility, there's a lot of interest in this hybrid approach. Burke added that Screen is open to partnering with other vendors and that all the codes and connections are fairly standard so Screen should also be able to integrate with other manufacturers.
Omet continued its relationship with Durst, showing a Durst Tau RSC 510 inkjet press as part of an integrated XJet line. The two companies announced that they would work together to create more highly integrated solutions in the future. 
Durst itself introduced a new quality inspection system called the Hawkeye, which can be ordered as an option with new printers and retrofitted to its older RSC models. It's a single scanner that covers the whole print width and can detect missing nozzles and compensate for that in real time. It is able to pick up missing colours but does not include a spectrophotometer or measure any spectral data. There is no set-up needed so the operator doesn't need to teach it or to set the sensitivity. It's based on AI and works fully automatically in the background. For now it runs at 80mpm though product manager Martin Leitner said the company would increase this to 100mpm. 
Several vendors have also been looking at inline finishing. The most significant of these was Actega's EcoLeaf unit for adding metallic effects. It's designed to be retrofitted inline, either directly onto a press line or on a finishing device. This can now run at production speeds of up to 80mpm with flexo or 70mpm with inkjet. The main advantage is its sustainability as it completely does away with the waste associated with conventional foiling. It uses tiny metallic flakes in an aqueous dispersion so there's no carrier film, and no unused foil, while the metallic effect is very similar to that achieved by foil. 
The samples certainly appear very shiny and are said to be scratch and fade resistant. At Labelexpo Europe it was shown integrated into an AB Graphic solution, with several press vendors including Gallus and Dantex also lined up to offer it as an inline option.
The issue of sustainability came up over and over and yet this still feels very much like a work in progress. There were some notable exceptions, such as the Xeikon EcoToner and the Actega EcoLeaf, as well as linerless label stocks from Avery Dennison. But there was no sign of aqueous ink digital presses. Even Bobst, which showed a prototype with water-based inks at the last Labelexpo, could only say that this is not yet ready.
The exception was Epson, which did show its recently introduced SurePress L-4733AW, which uses water-based resin inks. However, this is not a single pass press and only runs at 8.2mpm. Marc Tinkler, head of product marketing for Epson Europe's professional printing business, said: "We have improved the automated cleaning and maintenance. We have updated the ink set which has improved the ink quality and the wettability on certain substrates so we can do with four passes what we used to do with six passes. There's an air knife that moves across the platen as the heads move that helps with the speed."
Otherwise, the digital label market still seems to cover a very wide range of options, judging by the range of printers being offered. The bulk of the market is still short-run labelling to complement longer runs on flexo, with most standalone label presses offering speeds of around 50mpm at 600dpi resolution though there are plenty of other presses like Epson's L-4733AW or Konica Minolta's AL230 that offer lower cost and high print quality. Tinkler notes that as well as converters and commercial printers, internet entrepreneurs are also buying digital presses for online fulfilment, and added: "Also since the pandemic many brands have brought label production in-house, perhaps because of supply chain issues but also to make savings."
At the other end of the scale, some digital vendors are clearly aiming to replace flexo for medium runs, with faster presses running at 100mpm at 1,200 dpi resolution and more integration for inline converting. All of this suggests that the market is evolving rapidly, albeit that it's partly driven by a growth in packaging as much as labelling.
Fortunately, we won't have long to wait. Labelexpo Europe will return in 2025 but at a new venue in Barcelona, Spain, where it's likely that the format will be refreshed to take account of the greater focus on packaging.