It's getting on for 200 years since the envelope really took off, after the postal reforms of 1840 saw the use of envelopes increase more than tenfold in the space of a decade, with 300m being posted a year by 1850.
Perhaps the envelope's very ubiquity is the cause. Millions of envelopes hit household doormats every day, and yet this commodity product is so much more than that, as all savvy print specifiers realise.
Even an apparently unremarkable envelope is remarkable in its own way, given the amount of expertise and precision that has gone into its production and into the smooth running of all the machinery from the envelope manufacturer to overprinters and mailing houses, and then on to postal operators. The humble envelope is actually anything but.
Envelopes are also big business, as a glance at the credentials of any of the largest manufacturers and suppliers attest. That said, it's an unescapable fact that the structural changes that are affecting various areas of the printing industry, most notably the advent of digital marketing and the push to paperless billing, have also had a major impact on envelope producers, particularly at the high-volume end of the market.
Statistics from FEPE, the European Federation of Envelope Manufacturers, show sales volumes among its members decreasing over the past decade – from a peak of 90 billion envelopes per annum in 2007 prior to the financial crisis, to 50 billion in 2016. "Whilst the transaction processing business, consumer use, and increasingly the direct mail (marketing) business are the main users of envelopes, the market strongly depends on economic, social and technological trends and developments," it says.
It's clear that those aforementioned trends have had a sizeable effect, and there has been some significant re-shaping of the envelope landscape here in the UK in the past few years.
Negative impact
Swedish group Bong, which has a UK operation that tops our league table, has pointed to the negative impacts of overcapacity, and price-based competition in the UK, which it has described as having "some of the lowest prices in Europe", and this view is shared by other UK envelope specialists.
There has been consolidation and a number of business casualties as a result of this hyper-competitive environment. And yet some companies are expanding and there are still opportunities in a sector that spans everything from the everyday envelopes that are such a staple of office supplies businesses, to the fancy formats, colours, print techniques and heavyweight stocks deployed elsewhere.
Bong actually lays claim to having the largest envelope manufacturing plant in Europe, and it's right here in the UK, in Milton Keynes. Sales and marketing director Simon Bennett acknowledges that while the market will not return to those historic volumes detailed by the FEPE, he sees opportunity in "redeveloping the envelope".
Bennett says Bong is focused on "driving the value of the envelope", and that's not just about an ability to supply huge volumes, it encompasses a much bigger picture covering lead times, managing inventories, and the shelf-life of different types of envelope products.
"No one wants to be carrying huge amount of inventory. Customers are keeping an eye on working capital so they might hold 10 days' of stock rather than the 30-40 days they held in the past. It comes down to how quickly you want it versus how much stock you want to hold," he explains, while also highlighting something of a bright spot.
"The market isn't as doomed as people might make out. The steepest decline was in transactional where there was a big push to paperless billing. But that's washed its way through now. Direct mail is having a resurgence and is a lot more focused and designed for the target market."
Michael Barter, managing director at Blake Envelopes, concurs: "We are seeing that the use of direct mail is actually increasing because of the proven statistics that integrating direct mail with a digital campaign increases ROI across the whole campaign," he says. "With GDPR there is a strong possibility that direct mail volumes will increase."
Some believe that GDPR could also result in an increase in door drops, with companies choosing to use a simpler route instead of trying to navigate the permissions and complexities of the impending GDPR strictures.
"GDPR is going to affect cold mailing because people have got to opt in," says Karl Lee, director at Mail Solutions. "Some customers are replacing a lot of their cold mail activity with door drops, so they are sidestepping the data issue. It's a cheaper option per pack because it's non-personalised, but you need to increase the activity to get the take-up rate, so the volume has gone up."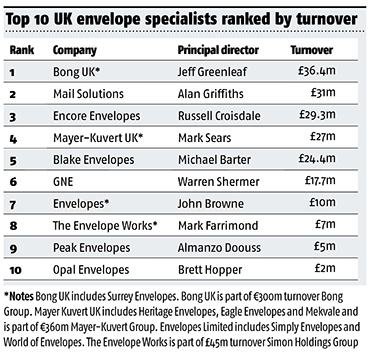 Indeed, despite the structural decline in the sector overall, Lee reports something of a boom at Mail Solutions, which expanded its offering when it took on the former Dobson & Crowther site in Llangollen. "The market is buoyant at the moment and it's been the best summer on record up to now – it's been relentless," he says. "There's definitely more volume in the market, for example if a job was 1 million it's now 1.2 million."
Mail Solutions has focused on exploiting its expertise in the production of litho printed reel-fed envelopes, and elsewhere in the trade others – be they manufacturers, overprinters, or suppliers – are doing likewise in their respective fields.
John Browne, co-owner at trade supplier Envelopes, which also operates ecommerce sites Simply Envelopes and World of Envelopes, points to the breadth of the firm's offering as its USP. "I believe we have the largest stocked range of postal products in the world. We supply a lot of other suppliers and manufacturers. We are white label suppliers and that's our market."
Taking stock
Stockholding is also a vital factor for Blake, which leverages its balance sheet strength in this area. "We have 1,465 products available from stock, and that involves 7,500 pallets. We can afford high stocking of everything and that's critical to us and an important USP," says Barter.
"More and more people are specialising, rather than trying to do everything," observes Almanzo Doouss, director at Peak Envelopes. "People are forging their own future and no two companies are doing exactly the same thing."
Envelope firms are pushing their USPs with pretty much every company out there claiming a leading position in one way or another. For Doouss, accreditations and certifications are key, along with keen attention to quality control to ensure his firm's envelopes will run smoothly on all mailing machines.
He also anticipates that Brexit will result in more envelopes being produced in the UK, rather than being imported from the continent or the Far East.
A squeeze on lead times is likely to be a contributing factor in this. In common with the rest of the printing industry, lead times in envelopes have compressed. This means that flexible production, manufacturing firepower, and stock holding have all come to the fore.
"Everything is getting faster. Print-on-demand doesn't just apply to brochures and leaflets, it applies to envelopes as well – hence we have adapted our offering," says Barter, whose Blake business moved into UK manufacturing when it acquired the plant, machinery and order book of Rapid Envelopes earlier this year.
Phil Bryan, director at Heritage Envelopes, which is part of the huge Mayer-Kuvert group, also cites "cash and space" as influencing factors when it comes to customer requirements. "People want things a lot quicker, in DM especially. There is pressure to deliver on much shorter timescales, and for products that are much more demanding in terms of the complexity of print that is required."
He cites the drive towards ever-greater efficiencies as being behind one of the firm's most successful innovations, which isn't actually to do with envelope shapes or sizes, or print techniques – it's all about handling. PackMail is a boxless format for shipping envelopes that is similar to ram bundling, and promises multiple benefits for the end user.
"We can get more product on a pallet so customers are moving fewer pallets around, so that's a cost saving, and it can reduce net waste by 30%-40%" he explains. "It reduces logistics costs and cardboard waste."
Heritage produced 350 million envelopes in the PackMail format last year, and Bryan expects that to increase to as much as 500 million this year. "Getting on for 20% of our total volume is now produced in this boxless format, and we're expecting that to grow."
Tighter focus
And while it's clear that a big chunk of the envelope business is dominated by requirements where large volumes are the norm, some suppliers have opted to take a different approach.
An example is Pitshanger Envelopes, which has removed low grammage products from its range in order to focus on higher-value options. "Our lead product is now 150gsm and that's done deliberately in order to push a quality product," explains director Richard Herd. "It is all about added-value and that is what the customer is demanding."
In recent years the firm has switched from buying in envelopes to a position where it now makes most of the envelopes it sells itself, driven by the bespoke nature of its offering. Herd reports that demand is leaning towards more customised products, in smaller batches. "People definitely want to stand out from the crowd, that's why we will make any size in paper, card or board, in quantities as little as 50."
Blake's Barter also points to a trend involving some clients choosing to spend more on the envelope, either to achieve greater stand-out, or to reflect a brand's values. "Because direct mail data is more refined, people are spending more on the carrier – they are looking at more innovative ways of portraying the brand and getting the interest of the clients."
Tactics could involve techniques beyond simple printing, such as foiling or embossing. And sometimes less can be more. "It's not just about having information splattered on the outside of an envelope, where, say, if you don't want car insurance you just throw it away," Barter adds.
Albert Rockhill, managing director at All Colour Envelopes, says his high-end clients are upping the ante with a surge in demand for luxe finishing techniques such as foiling. "A year ago we might have been producing two foil-blocked jobs a week, and now it's two a day."
Stand-out can also be achieved through the use of coloured envelopes, or special stocks. GF Smith, renowned for its vibrant Colorplan range, can convert the majority of the papers in its collection into standard envelope sizes, or in bespoke sizes from business card format up to A3.
Square shapes are also very 'on-trend' among certain brands, with both Waitrose and M&S deploying this format for communications with members of their respective loyalty card schemes. However, the good old C5 envelope remains a hugely popular choice. "A 162x235 mailing wallet with a 45x90 window is probably our biggest volume product," says Barter.
Karl Lee at Mail Solutions puts the C5's popularity down to the simple fact that it's effective. "People tend to stick with what works and a good old-fashioned C5 pack works," he says. "It's the most popular format at the moment and around 80% of our machines are on C5 all the time. People can still be a bit more creative with it, by putting the window on the reverse to utilise the full face with an image."
In addition, there's a whole host of envelope-type products that are used in different applications, with seed packets being an obvious high-volume market. Elsewhere, an 'envelope' could be used for smoked salmon packaging, or as a branding item deployed as a way of handing over a receipt with upmarket panache.
Envelopes represent an enormously diverse market. And while there is a general expectation that the volume trends charted by FEPE will continue to show decline, this will perhaps not be at such high levels as previously. "It's going to bottom out at some point, and it's still a lot," notes one expert.
The future for envelopes, then, is likely to be identical to the future for the rest of the printing industry – success will depend upon what you do, and how you do it.
---
Changes at UK envelope firms
Blake Envelopes moved into UK manufacturing with the purchase of Rapid Envelope's assets. The firm also opened hubs of excellence around the country
Peak Envelopes acquired the database and stock of failed envelope overprinter Wepos, which traded as Print On
Driscoll Envelopes was placed into voluntary liquidation by its owners
The Envelope Works, part of the £45m turnover Simon Holdings group, has consolidated its operations at the Blackburn site of sister firm The Reel Envelope Company
Mail Solutions acquired the assets of Dobson & Crowther in the summer of 2015. Dobson & Crowther had fallen into administration following the loss of a major contract
Encore Envelopes acquired the UK production business of Spanish group Tompla at the beginning of 2014, in a deal that grew the Tyne and Wear firm's annual output by around 1 billion envelopes
---
A history of the envelope
In 1840 the Post Office reforms proposed by Rowland Hill were implemented, with a simplified system based on weight rather than the number of sheets that dramatically reduced prices.
As a result, demand for cheap, mass-produced envelopes grew rapidly, with the number of letters being posted surging from 26m a year to 347m by 1850, with circa 300m of those in envelopes.
In 1844, London stationer George Wilson was granted a patent for his envelope design that involved tessellating envelope blanks to reduce paper waste. The following year Edwin Hill (Rowland Hill's brother) and paper maker Warren de la Rue (the son of De La Rue founder Thomas de la Rue) filed a patent for a machine that not only cut envelope blanks, but also folded them into shape. Prior to this, envelopes had been folded by hand using a tin template. In one hour the new machine could produce 2,700 envelopes. It was exhibited at The Great Exhibition of 1851 at Crystal Palace in London.
Source Adventures in Stationery by James Ward; De La Rue