Bevcraft is headquartered in Mullingar, Ireland and provides a range of services to customers in the booming craft brewing industry in its home market, the UK and Europe. 
The business offers tailored packaging solutions including labelling and shrink sleeves for branding. 
The Tonejet system will allow the business to offer a short-run, direct-to-can bespoke service "without the minimum order constraints of traditionally printed cans".
It has been looking at the potential for direct-to-can printing for some time.
Bevcraft chief operating officer Darren Fenton said that, despite the effects of the pandemic, the firm believed it was "the right investment at the right time".
CFO Ciarán Gorman described the Tonejet Cyclone system as a "total game-changer".
"It will provide us with a cost effective, environmentally sustainable alternative for decorating small can batches from 1 to 50,000 units – still small quantities for the can industry," he explained. 
Tonejet installed its first Cyclone in Canada in 2019. The Bevcraft sale is a double landmark as it is also the first Cyclone system in Europe. 
Tonejet's unique 600dpi electrostatic printing technology does not use nozzles like other inkjet printhead systems. It deposits a thin layer of heavily pigmented ink, with Tonejet claiming that it uses a tenth of the amount of ink of rival systems, with the "lowest cost per can of any digital printing process".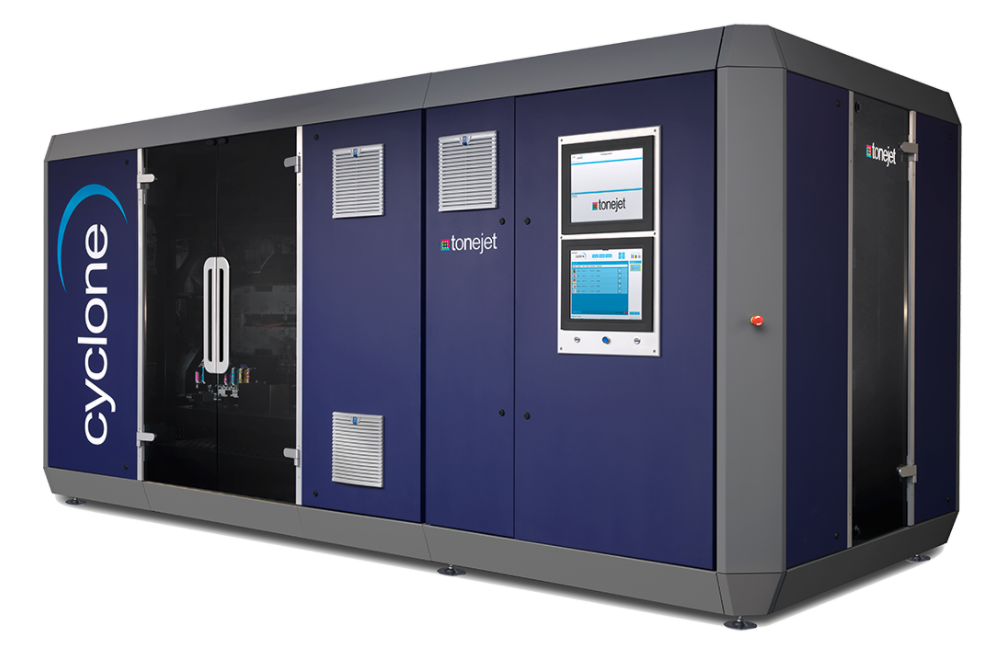 After printing the cans are over-varnished in the same way as standard cans using a conventional heat-cured gravure system. The Cyclone can print 60 cans/minute and can run as a pallet-to-pallet system. 
Tonejet chief executive Rob Day told Printweek: "Bevcraft is exactly the kind of customer we're aiming at. They are already in the beverage can and craft beer business, and this is a new capability and extra tool in their toolbox."
Tonejet is based in Melbourn, Hertfordshire, and its proximity to Peterborough will also be "incredibly handy" for both companies, Day said.
The installation is set to be up and running in Q2/Q3. Although pricing for the system was not disclosed, Day said the ROI was around two-and-a-half years. 
"BevCraft's Cyclone installation will open up a whole new packaging supply option for European craft brewers. Crucially, it allows craft beverage producers, many of whom strive to be carbon-neutral, to cost-effectively can small batches without the use of plastic labels or sleeves which can be problematic to recycle," he stated. 
Day said that recyclability was increasingly to the fore, with the Canadian province of Quebec considering a total ban on shrink sleeves. 
As well as the booming craft brewing market at home and abroad, he said the US trend for 'hard seltzer' was also likely to spread to Europe, further increasing demand for short-run, fast turnaround can decoration. 
Bevcraft also offers a mobile canning service. Its other UK facility is in St Helens, Merseyside.